COHA Research: Brazil's Weapons Industry
Posted March 20th, 2015 for Council on Hemispheric Affairs
Printer-friendly version
PDF version
By: W. Alejandro Sanchez, Senior Research Fellow at the Council on Hemispheric Affairs
Latin America does not depend solely on exports from extra-regional powers for military equipment. On the contrary, the region boasts its own thriving domestic weapons industry. The crown jewel of Latin America's defense industries is arguably Brazil's, which has made a name for itself by domestically producing military equipment for export. Case in point is the Super Tucano, a light military aircraft that can be utilized for either training or combat operations, which is produced by the Brazilian aerospace conglomerate Empresa Brasileira de Aeronautica (EMBRAER) and enjoys significant prominence in the field. According to the latest headlines, the Portuguese-speaking nation is predicted to have a good year in weapon sales, bolstering Brazil and Latin America in terms of capital and relevancy in the global arms market.
Recent Transactions
Over the years, the Council on Hemispheric Affairs (COHA) has monitored Brazil's budding military industry. This includes a report published in 2009, entitled: "EMBRAER: Brazilian Weapons Industry becoming a Global Arms Merchant?" The report discusses the history and recent activities of EMBRAER, the aforementioned Brazilian aerospace conglomerate. The company's origins can be traced back to the Brazilian military junta that ruled the country from 1964 to1985. General Emilio Medici was head of the military junta in 1969 when EMBRAER was initially founded. Medici wanted the country to have its own self-contained aircraft-manufacturing company, with the state in control of 51% of the shares. COHA's 2009 report features an interview with Dr. Thomaz Costa, Professor of National Security Affairs at the Center for Hemispheric Defense Studies at the National Defense University. Costa explains, "[Embraer's] business philosophy seems to reflect a market position defined by producing platforms with technology, electronic components, and had a large array of private stock of parts available in its on-site global market. Its products directed to civilian markets are based in cost-effectiveness of product life cycle."[i]
Since the release of COHA's "Global Arms Merchant" report, EMBRAER and Brazil's arms industry have accomplished some significant achievements.
One interesting development occurred in mid-2014, when the Brazilian media reported that Brazil had sold its first batch of unmanned aerial vehicles (UAV), commonly known as drones, to an African nation. It remains unclear which African nation bought the drones, though it is known that three FT-1000 Horus were sold, produced by the Brazilian company FT Sistemas S.A.[ii] Drones for military use are becoming increasingly popular among defense forces across the world, presenting an opportunity for Brazil to make a name for itself as a producer of reliable and efficient UAVs.
In addition to military aircraft, Brazil also produces and exports land equipment. In early February, the Italian-based Industrial Vehicles Corporation (IVECO) signed an agreement with Lebanon to sell that nation around 80 military and police vehicles. It is important to note that ten of these armored vehicles will be manufactured in Brazil.[iii] Specifically, the vehicles that will be produced in the South American state are the Guarani (VBTP-MR), a 6×6 armored personnel carrier that can carry up to eleven troops.[iv] They will be assembled in IVECO's plant in Sete Lagoas, located in Brazil's Minas Gerais state, which will boost the local workforce.[v]
Moreover, in November 2014, the Brazilian company AGRALE reached a deal with the government of Namibia for the sale of 141 Marrua, four-by-four wheeled transport and utility vehicles.[vi]/The African defense news website DefenceWeb explains that AGRALE has had a foothold in Namibia's defense forces since 2011, when Namibia's state owned Windhoeker Maschinenfabrik (WMF) company partnered with the Brazilian company to assemble its vehicles, including tractors.[vii]
Furthermore, in late-2014 the Angolan Navy ordered seven Macae-class patrol boats from Brazil. This came about via an agreement between the defense ministries of the two countries, with four of the vessels to be constructed in Rio de Janeiro by Brazil's Empresa Generencial de Projectos Navais (EMGEPRON).[viii]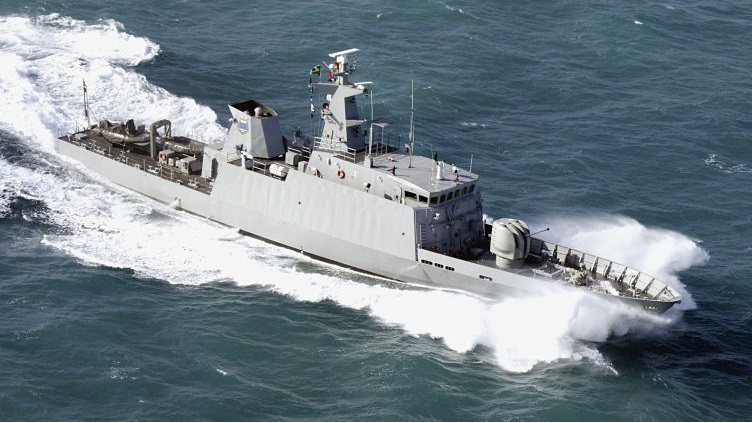 Angola and Brazil have signed an MoU covering the construction for Angola of seven Macaé-class patrol boats. Source: EMGEPRON. – Found in Janes.com
Source: http://www.janes.com/article/42853/angola-lines-up-seven-new-patrol-boats-with-brazil
Finally, in response to an e-mail query by COHA, DefenceWeb also mentioned the A-Darter missile project between South Africa and Brazil. Just this past February, the Brazilian Air Force reported the successful firing of an air-to-air A-Darter missile. The defense news portal Defense Industry Daily has generally praised this partnership, explaining that "there's a new advanced dogfighting missile coming to town, and it won't be coming from any of the standard players."[ix] The missile is a partnership between the Brazilian Air Force, the Brazilian Ministry of Defense and the South African-based Denel Dynamics (a subsidiary of Denel SOC Ltd) which dates back to 2006.[x]
The aforementioned examples of confirmed orders highlight the growing presence of Brazil as a global arms merchant not only when it comes to warplanes, but also manufactures land and sea equipment. The independent geopolitical risk consultant Milena Rodban explained to COHA that "Brazil's defense industry is protected as part of the country's National Defense Strategy, which stresses the need for an autonomous national defense industry to keep Brazil from becoming reliant on other countries to equip its armed forces."[xi]
The U.S.-Super Tucano Deal
The sale of Super Tucano planes to the U.S. deserves an in-depth discussion in itself. In recent years, Washington-Brazil relations have been at times tense, particularly due to the 2013 discovery that the U.S. National Security Agency (NSA) had spied on President Dilma Rousseff's telephone and e-mail accounts. But prior to the diplomatic tensions, the two countries had reached an agreement over the transaction of 20 Super Tucanos. According to a September 2014 article in AviationWeek.com, the U.S. Air Force has begun receiving the first of the A-29 Super Tucanos purchased by the U.S. government.[xii] EMBRAER has teamed up with Sierra Nevada Corp., an electronic systems provider and systems integrator headquartered in Nevada. This was a very important order as it was EMBRAER's first successful venture in the U.S. defense market."[xiii]
It is worth noting that the U.S. is merely a stopover for the Super Tucanos, as they will be eventually taken to Afghanistan to be flown by the local Air Force. In fact, renowned Jane's Defense Weekly reports that as early as this January, the U.S. Air Force has "begun training Afghan pilots and maintainers on the Embraer A-29 Super Tucano light attack aircraft at Moody Air Force Base (AFB) in Georgia."[xiv] It is certainly a great honor for EMBRAER to have its flagship aircraft chosen by the U.S. Air Force, and even more so that it will be utilized by the Afghanistan military to bring security and order back to the troubled Central Asian state.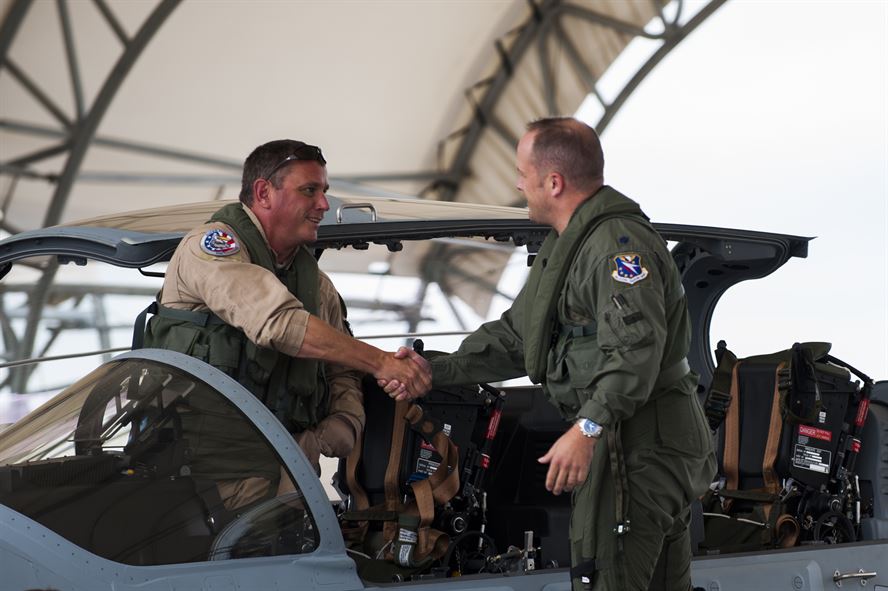 Chris Carlson, left, Sierra Nevada Corporation senior pilot, shakes hands with Lt. Col. Jeffrey Hogan, Afghan A-29 Light Air Support training unit commander, after landing an A-29 Super Tucano for its first arrival Sept. 26, 2014, at Moody Air Force Base, Ga. Moody was selected for the A-29 LAS training mission to train a total of 30 Afghan pilots and 90 Afghan maintainers over the next four years. (U.S. Air Force photo/Airman 1st Class Dillian Bamman)
Source: http://www.af.mil/News/Photos/tabid/129/igphoto/2000945466/Default.aspx
Nevertheless, the question remains whether current chilly Washington-Brasilia relations will affect future deals. Geopolitical risk consultant Milena Rodban argues that "Embraer's plans to sell more planes to the U.S., for use in border surveillance and counter-narcotics missions, may be affected. I personally think that the likelihood of chilly relations resulting in fewer sales remains low. If Embraer loses out on bids, it'll be because other companies are in a better position to provide adequate equipment, and not because of the fallout from the NSA scandal."[xv] The opinion is shared by Inigo Guevara, a specialist in Latin American defense affairs. In an interview with COHA, Guevara explained that "the first Super Tucano deal was agreed upon before the NSA scandal. The question now is whether the U.S. government will want a second batch of these planes."[xvi]
Sales Speculation
As is generally the case with the global arms trade, there is plenty of speculation regarding future prospects for Brazil's weapons industry. For the sake of the argument, we will mention the most prominent rumors.
One possible future for the Super Tucanos is Guatemala, as the country's government has considered purchasing them for quite some time. In fact, Guatemala and EMBRAER signed an agreement in 2013 for a transaction including six Super Tucanos. Nevertheless, in 2013, Guatemalan President Otto Perez Molina announced his decision to withdraw from the original order. The Guatemalan head of state argued at the time that the aircrafts were overpriced, hence his decision to cancel the deal.[xvii] As a penalty, Guatemala paid around 600 thousand USD dollars in fines.[xviii] It appears that Guatemala City still desires the planes, but only two instead of six. However, some concerns remain regarding the planes' cost. Specifically, the Guatemalan Minister of Defense, General Manuel Lopez, has declared that purchasing the two Super Tucanos, along with three radars and two interceptor speed boats, will cost around $13 million USD. The highly regarded defense-news agency Infodefensa.com argues that even in the best of cases, this amount is too low, considering one new Super Tucano with basic-equipment costs around $10 million USD alone.[xix] The Guatemalan media has widely quoted Minister Lopez on the issue, who emphasizes that regardless of the cost, Guatemala is committed to obtaining several Super Tucanos this time around.
The United Arab Emirates (UAE) are involved in rumors surrounding the notorious Super Tucanos. Senior military official Brigadier General Juniti Saito, Commander of the Brazilian Air Force, has declared that the UAE is interested in acquiring twenty-four A-29 Super Tucanos. This particular speculation may turn out to ring true in the near future, as the UAE government apparently aims to acquire some aircraft directly from the Brazilian Air Force's inventory for a speedy delivery.[xx]
Another agreement over the Super Tucanos which is currently in the works is tied to Indonesia. The Asian nation originally wanted to purchase an aircraft, but relations between the two governments have soured since January when Indonesia executed Mario Archer, a Brazilian citizen who had been found guilty of smuggling 13.4 kilograms of cocaine into the country. Prior to the execution, President Rousseff herself called Indonesian President Joko Widodo, pleading for mercy on behalf of her citizen, but the Indonesian government continued with his execution and other prisoners, some of them also foreigners. In retaliation, Brazil called its ambassador back to the country for consultations and also did not recognize the credentials of the new Indonesian ambassador.[xxi] In response to this, Indonesian Vice President Jusuf Kalla declared that his government was considering canceling the purchase of 16 EMB-314 Super Tucano warplanes for the Indonesian Air Force.[xxii] (For another perspective on this affair, it is worth noting that Indonesia is a long-time customer of EMBRAER, as it purchased 18 of their aircrafts in 2010.[xxiii])
It should be noted that there is another Brazilian citizen, Rodrigo Gularte, on death row in Indonesia. Like Archer, Gularte is also accused of smuggling cocaine.[xxiv] If Gularte is also executed, this could further tarnish relations, damaging any hope for the Super Tucano deal.
Analysis
In 2014, the major news regarding Brazilian arms sales was related to Brazil's decision to purchase 36 Gryphen warplanes from the Swedish company Saab.[xxv] This decision was a shock formany because it was widely believed, that the Brazilian government would choose the Rafale warplanes, produced by the French company Dassault.[xxvi] But  while Brazil's purchase of weapons from the exterior is certainly noteworthy – the Gryphen deal will cost some $4.5 billion USD – the Brazilian weapons complex has not fallen behind. Recent deals over Super Tucanos with the U.S. and Afghanistan, the sales of combat and armored vehicles to Lebanon and Namibia, and even the sale of a small quantity of drones to an unidentified African nation, highlight that several governments, even major military actors like the U.S. and UAE, are interested in Brazilian-made weapons. Should new deals occur in the coming months, like with the UAE, this will only strengthen Brazil's pedigree when it comes to the manufacturing of reliable weaponry that nations across the world desire.
Nevertheless, a word of caution is necessary. Although arms sales continue, they have fallen beneath the projections of what Brazilian weapons companies desire. Furthermore, not all aspects within these companies are ideal. Specifically, Sami Hassuani, CEO of Avibras Aeroespacial, a producer of military equipment, acknowledges that some 1,500 employees were not promptly paid this past December.[xxvii]
COHA interviewed Mauricio Santoro, a professor of International Relations at Candido Mendes University. Professor Santoro explained to COHA that during the Rousseff presidency, there have been "many cuts in the federal budget, and these companies experienced serious setbacks. Avibras´ situation is controversial. The Minister of Defense [Jacques Wagner] says that the problem is its management, and not lack of contracts."[xxviii] As a way to assure its customers and employees of its current situation, Avibras released a press release just this past March 11, explaining that it is paying its collaborators and missing salaries.[xxix] It is a positive development that the company is paying its dues, but it is troubling that the company felt the need to publish a communiqué arguing that its management is in control of the company. While sharing his thoughts with COHA, independent analyst Inigo Guevara highlighted that "in the 1990s, ENGESA produced and exported armored vehicles and it went bankrupt," highlighting how companies that are having successful sales can undergo major turmoil.[xxx]
Ultimately, there is the obvious concern of whether Brazilian arms manufacturers will be able to maintain their momentum regarding exports. The aforementioned sales exemplify that various countries desire to purchase Brazilian military technology. However, the global arms trade has a plethora of suppliers. Apart from the usual suspects like the U.S., Russia, and China, various other nations also produce high-tech weaponry. Sweden, for example, which is not usually regarded as a European military powerhouse, produces the Gryphen warplanes that Brazil recently purchased. Even Peru, which houses a smaller industry than Brazil, jumpstarted its weapons industry in recent years with positive results. For example, Servicios Industriales de la Marina (SIMA), a state-owned Peruvian company with multiple shipyards, produces vessels for the Peruvian Navy, including a new training vessel, the BAP Union.[xxxi] Furthermore, SIMA recently reached an agreement with Panama to open a SIMA subsidiary shipyard in the strategic Central American nation.[xxxii]
Geopolitical risk consultant Milena Rodban explained to COHA that one crucial factor that makes Brazilian weapons, and those produced by other Latin American countries, attractive, is the "willingness" of these governments "to sell to customers without imposing rules on resale, use, etc. This latter point is very important, since it greatly expanded the pool of potential customers, allowing Brazil to sell to countries including Libya and Saudi Arabia, which were willing to buy, but only if there were no strings attached to the sale."[xxxiii] Professor Santoro adds that "Brazil has been trying hard to build an arms industry since the 1960s, but this project only advances when the State has enough resources to support the companies in a very competitive international market."[xxxiv]
Ultimately, there is the question of how much of a "splash" is Brazil making in the global weapons market. The renowned Stockholm International Peace Research Institute (SIPRI) has released a new report with updated data on the arms trade. A March 2015 SIPRI Fact Sheet, "Trends in International Arms Transfers, 2014," states that the top 10 largest exporters of weapons nowadays are the U.S., Russia, China, German, France, the UK, Spain, Italy, Ukraine and Israel.[xxxv] In other words, even with the Super Tucano sale to the U.S. and sales to Namibia and Lebanon, Brazil is not considered within the top 10 of global weapons exporters.
On March 16, the Stimson Center, a Washington DC-think tank, hosted an event to celebrate the SIPRI report, which included speakers from SIPRI, the Forum on the Arms Trade and an expert from Stimson.[xxxvi] During the Q&A section, a COHA military analyst asked the speakers for their thoughts on Latin America as an emerging exporter of weapons, with Brazil as the crown jewel. The SIPRI expert, Dr. Aude Fleurant, spoke about South-South cooperation, while Jeff Abramson, from the Forum on the Arms Trade, spoke about countries having "niche markets" for their products. Moreover, it was highlighted that emerging powers with strong militaries are having troubles placing their domestically-made products in the global market, like for example India.
It seems that experts in general agree that several Brazilian companies, EMBRAER chief among them, are going to continue their weapons exports abroad; with the no-strings-attached sale certainly helping. Nevertheless, even the major sale of 20 Super Tucanos to the U.S. Air Force is not enough to break Brazil into the Top-10 list of major weapons exporters in the world. With that said, smaller sales to other developing nations will continue to enrich these companies' coffers.
Conclusions
The early months of 2015 put the Brazilian weapons industry in an interesting situation. Several deals have transpired that should qualify the country as an admired and respected global arms merchant, best exemplified by its deals with Lebanon, Namibia, and even the U.S. and Afghanistan as a final destination for the planes. Nevertheless, there are obstacles. The issue of unpaid salaries is a troubling matter that may indicate managerial problems in some of these companies. Moreover, the 2013 annulment of the Guatemala deal and inter-governmental tensions that threaten the deal with Indonesia stress the subjectivity of speculation over agreements; even finalized agreements are at risk for cancellation. Professor Mauricio Santoro concludes that in Brazil, "there are some very dynamic companies, such as Embraer and Condor (which produces less-lethal weapons) and good perspectives for firms engaged in the Navy expansion program. But the future of many other companies, including Avibras, is still a difficult question to answer."[xxxvii]
Finally, as Brazil's weapons industry grows, the question becomes to which countries it is willing to sell weapons. The obvious concern is that Brazilian weapons may be acquired by governments that are accused of human rights abuses, such as genocide, or engaged in illicit activities. As a signatory of the UN Arms Trade Treaty, the Brazilian government has the duty not just to its domestic companies to ensure that they flourish, but also to humanity to ensure that Brazilian weapons are not used for evil.
With that said, Brazil continues to grow as a major weapons supplier to nations across the world. The country's Super Tucano cannot be compared to the highly-advanced, and very costly, F-35 Joint Strike Fighter warplane (constructed by Lockheed Martin and funded by the U.S. and several of its allies), nor can the Horus UAV be compared to an armed Predator, but Brazil is also capable of meeting the demand for cheap and effective weapons on a global scale.
By: W. Alejandro Sanchez, Senior Research Fellow at the Council on Hemispheric Affairs
Please accept this article as a free contribution from COHA, but if re-posting, please afford authorial and institutional attribution. Exclusive rights can be negotiated. For additional news and analysis on Latin America, please go to: LatinNews.com and Rights Action.
Featured Photo: : Chris Carlson, a Sierra Nevada Corporation senior pilot, taxis an A-29 Super Tucano on the flightline during its first arrival, Sept. 26, 2014, at Moody Air Force Base, Ga. The Afghan Air Force will implement the A-29 as their current air-to-ground aircraft, the Mi-35 attack helicopter, reaches its end of service life in January 2016. (U.S. Air Force photo/Airman 1st Class Dillian Bamman) –  http://www.af.mil/News/Photos/tabid/129/igphoto/2000945465/Default.aspx
News Source : COHA Research: Brazil's Weapons Industry
Copy this html code to your website/blog to embed this press release.